Suddenly I See - Ron & Hermione Fanmix
July 25th, 2007 (01:01 pm)
Spoilery if you haven't read deathly hallows. Enjoy!

The basic idea of this mix is I guess more or less rooted in the book 7 - The Deathly Hallows - and it chronicles what seems to be the final moments before Ron and Hermione accept that they are in love. Over the years they have become more and more affectionate and comfortable with each other, but it reaches a fever pitch in TDH.
Basically it begins where they are just beginning to explore this thing more fully, they share a kiss and 19 years later they are married and putting their kids on the Hogwarts Express.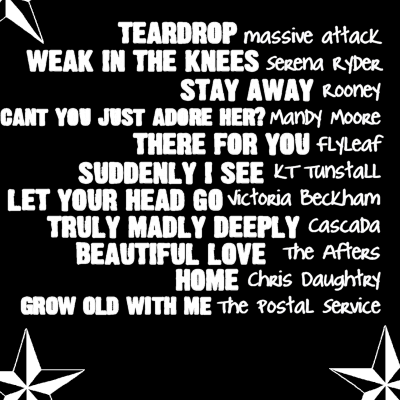 Teardrop - Massive Attack

Love, love is a verb
Love is a doing word
Fearless on my breath
Gentle impulsion
Shakes me makes me lighter
Fearless on my breath.
Both Ron and Hermione are unsure of these feelings and how to handle them given the dangerous situation they find themselves in.
Weak in the Knees - Serena Ryder
I'm weak in the knees for you
But I'll stand if you want me to
My legs are strong and I move on
But honey I'm weak in the knees...
Would you mind if I walked over
and I kissed your face
In front of all of your friends?
Ron finally admits his feelings for Hermione -- to himself.
Stay Away - Rooney

No, you've got me all wrong
I just want to kiss your lips
And you kiss back.
She doesn't know
That I love her
Yes I love her
Again, Ron thinks about how much he wants to show Hermione how he feels.
Can't You Just Adore Her? - Mandy Moore
And in spite of what is right
Far beyond what she'd except
When the moon begs the question
Will you have the answer yet?
Can't you just adore her?
Can't you just adore her?
Hermione knows that Ron has always stayed away from talking about their relationship before, but now that she's realized she loves him she wants him to be able to get over the belief that they are too different.
There For You - Flyleaf

I wanna be there for you
And be someone you can come to
The love runs deeper than my bones
I wanna be there for you.
Hermione is threatened in a confrontation, her life in danger, Ron does his best to defend and care for her.
Suddenly I See - KT Tunstall

Her face is a map of the world
Is a map of the world
You can see she's a beautiful girl
The love runs deeper than my bones
Suddenly I see
This is how I wanna be
Suddenly I see
Why this means so much to me
Ron finally admits to Hermione that he loves her, but voices concerns about their differences.
Let Your Head Go - Victoria Beckham

Let your head go
Shake your body free
Cause tonight the beat's gonna get you
Let your head go
Baby care for me
Quite oddly for Hermione, she tells him to stop thinking so much and just let it be as it is. They fall asleep holding hands.
Truly, Madly, Deeply - Cascada
I'll be your hope
I'll be your love
Be everything that you need
I love you more with every breath
Truly, madly, deeply, do.
Ron dreams.
Beautiful Love - The Afters

Can it stay for a while
On this beautiful night
We'll make everything right
My beautiful love
Hermione dreams.
Home - Chris Daughtry

I'm going home,
Back to the place where I belong,
And where your love has always been enough for me.
I'm not running from
No, I think you got me all wrong.
I don't regret this life I chose for me.
"There was a clatter as basilisk fangs cascaded out of Hermione's arms.
Running at Ron, she flung them around his neck and kissed him full on the mouth.
Ron threw away his fangs and broomstick and responded with such enthusiasm that
he lifted Hermione off her feet." - DH pg. 625
Grow Old With Me - The Postal Service

Grow old along with me
Whatever fate decrees
We will see it through
For our love is true
God Bless our Love
Ron and Hermione, marry, have children and live happily ever after.
.zip w/art @
Megaupload Here